Skill Improvement Area
Perfect trails for the first-timers and beginners to have fun while practicing.
Going up the hill is easy with a lift!
We have created each trail and step to advance your skill while enjoining mountain biking safely. If you bike through these trails as designed, you can improve yourself as a biker! Feel the excitement of biking down from the top of the mountain!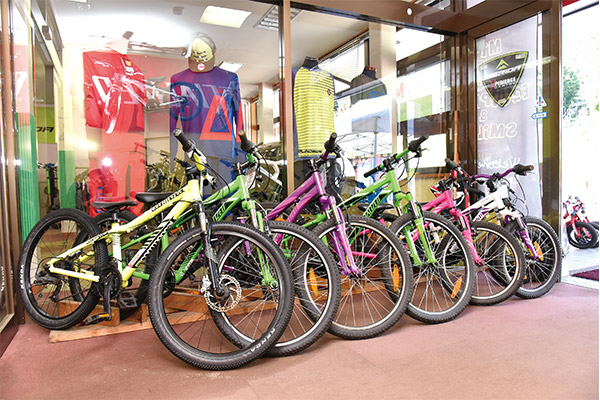 Everything you need to enjoy mountain biking is here for rent. The staffs will teach you all the basics.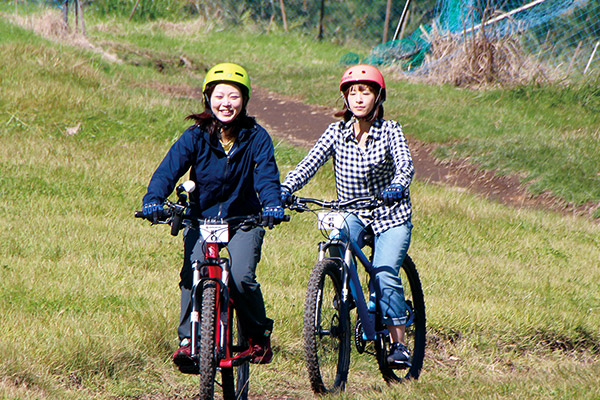 The best way to learn is to get on a mountain bike!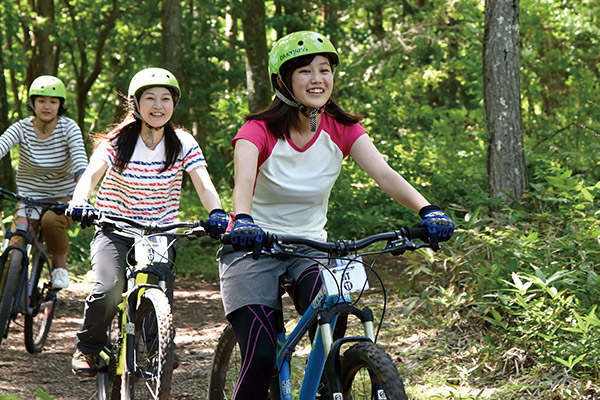 When you get used to biking, run through the forest to feel the breeze!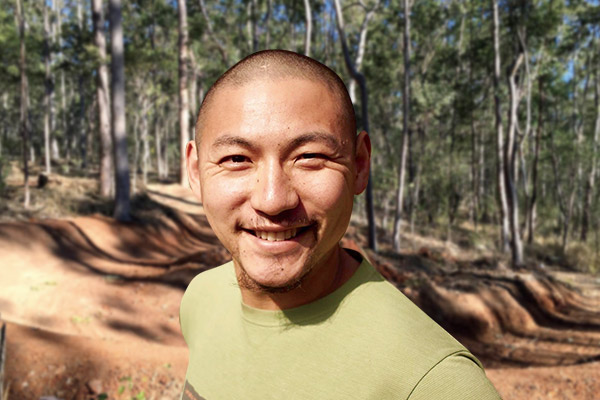 Designed by the revolutionary trail builder
Yuta Urashima
My goal is to make Fujimi Panorama MTB Park as one of the best trails in the world. I've designed this park to make bikers to feel that "even after spending 3 full days, there is still a lot more to discover in Fujimi Panorama MTB Park."
Profile: In Austria and New Zealand, Urashima worked as a builder at one of the best trail construction companies in the world. He was the first Japanese trail crew at Crankwork held in New Zealand, 2017. After returning to Japan in 2017, he has been building trails all around Japan.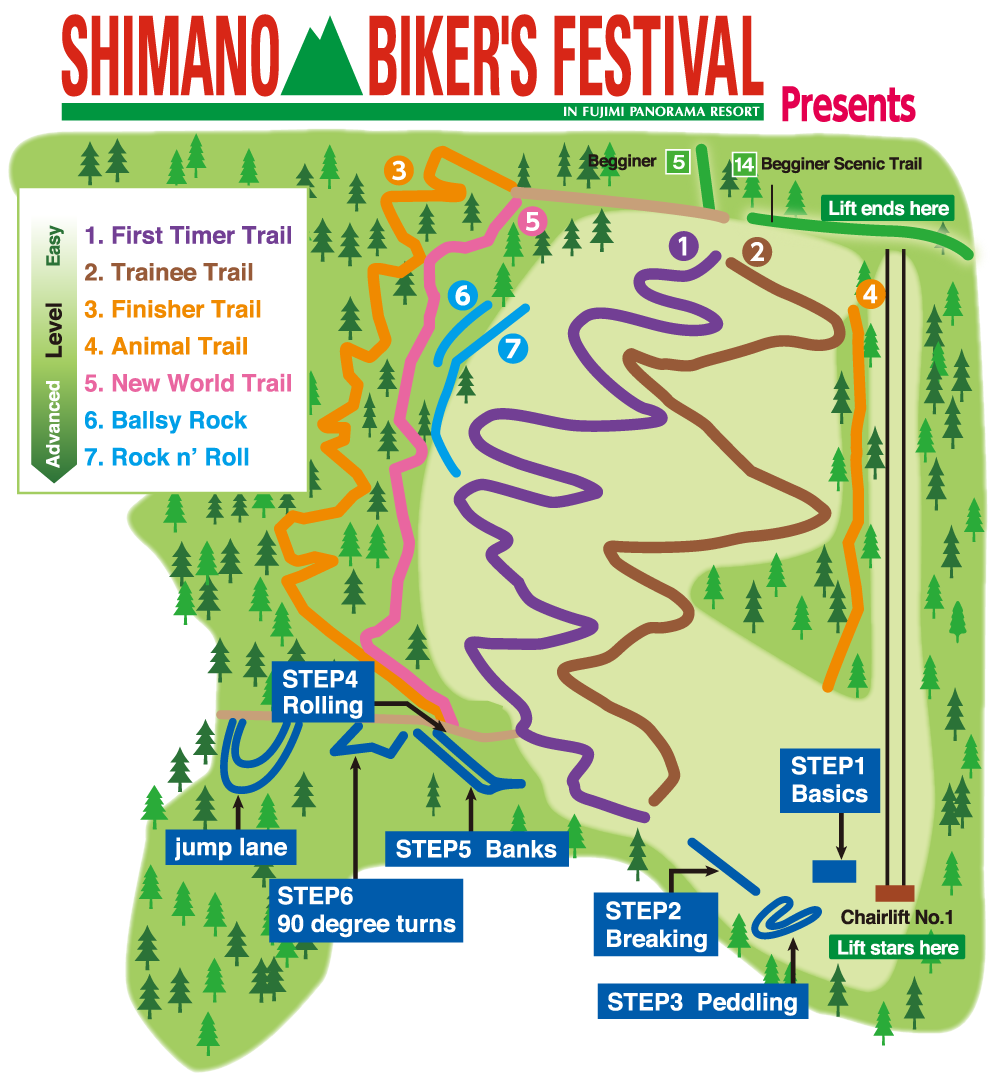 1. First-timer Trail
This trail is designed for beginners with a flat entry to corners enabling slow turns. Recommended for bikers who can easily pass the step 1 to 6 of the Skill Improvement Steps.
2. Trainee Trail
This trail is designed with the elevated entry to the corners allowing to turn while maintaining the speed. You can traverse the S-shaped track as if you are skiing. Recommended for bikers who can easily pass the step 1 to 7 of the Skill Improvement Steps.
3. Finisher Trail
Smooth 400m long trail with consecutive small turns as well as ups and downs like a roller coaster. To run down this trail, you have to complete the step 1 to 7 of the Skill Improvement Steps. This is a flow trail, which has become very popular worldwide.
4. Animal Trail
This natural single track is perfect next challenge for beginners who mastered the flow of the Finisher Trail. It is a narrow trail running through the tree roots and off-camber sections. Adjusting to maintain good body position will be the key for riding down this trail through the forest.
5. New World Trail
This narrow and steep track is a combination of flow and technical sections. It has winding flows just like in Finisher Trail, small rock drops, tree roots sections, off-camber sections, and flat corners. Bikers are required to have advanced skills such as stable braking control.
6. Ballsy Rock
A thrilling short track for advanced bikers to run down on a massive rock.
7. Rock n' Roll
A rolling track next to Ballsy Rock with 4 consecutive large rocks. Smoothly riding these rocks requires advanced skills.
Skill Improvement Steps
Step 1:
Learning the basics. Practicing how to hold brakes and getting the right body position.
Step 2:
Mastering the braking technique. Practicing to stop after biking for 20m and for 40m.
Step 3:
Practicing to turn while biking in the area called Milky Way.
Step 4:
Practicing to ride on bumps using knees and elbows.
Step 5:
Practicing to ride on small banks using body weight.
Step 6:
Practicing to make 90 degree turns. Riding the berms is the key.
How to enjoy the Skill Improvement Area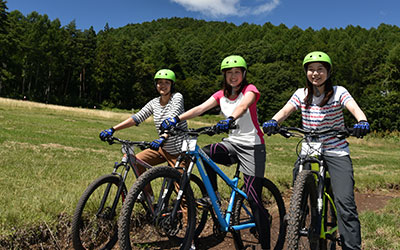 Ticket
You will need a ticket to bike in this area. If you have MTB Day Pass or Season Ticket, you can use the Skill Improvement Area without paying an additional fee.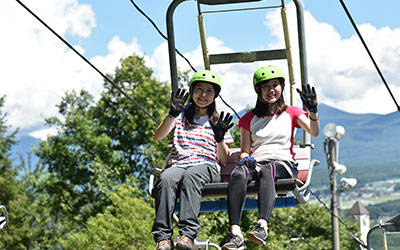 Lift operation schedule
The chairlift runs from 9:00AM to 4:00PM on weekends, national holidays, and summer holidays from April 29 to May 8, May 14 to November 13. Please note that this schedule is subject to change due to weather or maintenance work.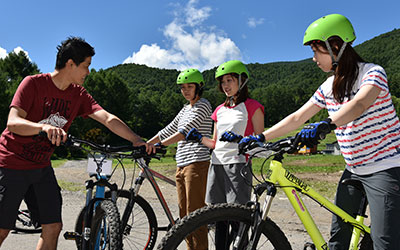 Rentals, school, and gift shops
Enjoy mountain biking without buying or bringing your gear. Our instructors will teach you how to make fun and safe mountain biking experience.
Biking rules
○Purchase a ticket for the Skill Improvement Area. ○Make sure to always wear a helmet on trails. ○Wearing other protectors are strongly recommended. ○Small children must be accompanied by adults. ○Check each trail before running for the first time. ○Keep the speed within your control. ○Keep enough space between you and the biker ahead of you. ○Call the patrol squad or nearest staffs when encountering an injury or accident. ○Fujimi Panorama Mountain Bike Park will not be reliable for any injury or accident. ○Trails can be closed without an advance notice due to weather or maintenance work. ○Follow these rules to respect other bikers and trails to enjoy biking safely!